Stanley J. Preston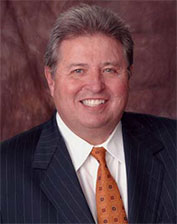 Mr. Preston is an accomplished trial lawyer who has handled the full range of complex civil lawsuits. Mr. Preston has 30 years of trial experience in federal and state court, having tried over thirty major cases to verdict, both jury and bench trials, as well as many administrative trials. Mr. Preston has won over 50 summary judgments, and he has handled numerous cases on appeal to the Utah Supreme Court, the Utah Court of Appeals, and the Tenth Circuit Court of Appeals. For many years now, Mr. Preston has annually been recognized in such publications as Best Lawyers in America, Mountain States Super Lawyers, and Utah's Legal Elite. Mr. Preston has a Martindale Hubbell rating of AV Preeminent 5.0 out of 5.
Mr. Preston has tried complex business and commercial litigation cases involving a wide variety of claims, including breach of contract, intellectual property, antitrust, fraud, business torts, oil and gas disputes, alter ego, breach of fiduciary duties, defamation, copyright and trademark infringement, federal and state securities claims, and professional liability claims, among others. Mr. Preston has also represented a number of successful technology companies in software and commercial litigation.
Mr. Preston has also represented employers in the full range of employment and labor litigation claims, including Title VII, sexual harassment, ADA, ADEA, FLSA, FMLA, wrongful discharge, defamation, whistle blower, COBRA, and non-compete lawsuits, and he has defended public employers in all manner of employment and constitutional law related lawsuits.
Prior to forming Preston & Scott in 2010, Mr. Preston worked for 27 years at Snow, Christensen & Martineau, where he served on the firm's three-member governing Executive Committee, as the firm's Vice President, and as a member of the firm's Board of Directors. Before joining Snow, Christensen & Martineau in 1983, Mr. Preston practiced law with the firm of Latham & Watkins in Los Angeles, California.
Reported Cases
Nelson v. City of Orem, 2013 UT 53, 2013 WL 4411260
Nelson v. Orem City, Dept. of Public Safety, 2012 UT App 147, 278 P.3d 1089
Kocherhans v. Orem City, 2011 UT App 399, 266 P.3d 190
Van Beuge v. Draper City, 2010 UT App 371, 2010 WL 5452085
Philips Electronics North America Corp. v. BC Technical, Inc., 773 F. Supp. 2d 1149 (D. Utah 2011)
West Liberty Foods, L.L.C. v. Moroni Feed Co., 753 F. Supp. 2d 881 (S.D. Iowa 2010)
James v. Frank's Westates Services, Inc., 747 F.Supp. 2d 1264 (D. Utah 2010)
Cabaness v. Thomas, 2010 UT 23, 232 P.3d 486
Barnard v. Mansell, 2009 UT App 298, 221 P.3d 874
Kearl v. Rausser, 2008 WL 4228381 (10th Cir. 2008)
Harmon v. Ogden City Civil Service Comm'n, 2007 UT App 336, 171 P.3d 474
AH Aero Services v. Ogden City, 2007 WL 2570207 (D. Utah 2007)
Thomas v. Draper City, 2006, UT. App 287
Canfield v. Layton City, 2005 UT 60, 122 P.3d 622
Ogden City Corp. v. Harmon, 2005 UT. App. 274, 116 P.3d 973
Jensen v. Summit County, 128 F. App'x 37 (10th Cir. 2005)
American Bankers Ass'n v. National Credit Union, 347 F.Supp. 2d 1061 (D. Utah 2004)
Allan v. Springville City, 388 F.3d 1331 (10th Cir. 2004)
Huemiller v. Ogden Civil Service Comm'n, 2004 UT. App. 375, 101 P.3d 394
Canfield v. Layton City, 2004 UT. App. 228
Canopy Group, Inc., v. Computer Associates Intern., Inc. 2003 WL 25686833 (D. Utah 2003)
Velarde v. Associated Regional and University Pathologists, 61 F. App'x 627 (10th Cir. 2003)
Lantec v. Novell, Inc., 306 F.3d 1003 (10th Cir. 2002)
Kingsford v. Salt Lake City School Dist., 247 F.3d 1123 (10th Cir. 2001)
Lantec v. Novell, Inc., 146 F. Supp.2d 1140 (D. Utah 2001)
Langille v. Logan City, 9 Fed. Appx. 892 (10th Cir. 2001)
Nielsen v. Moroni Feed Co., 162 F.3d 604 (10th Cir. 1998)
Nielsen v. Moroni Feed Co., 34 F. Supp.2d 1315 (D. Utah 1997)
Harmon v. Ogden City Civil Service Comm'n, 917 P.2d 1083 (Utah 1996)
Bottomly v. Leucadia Nat., 163 F.R.D. 617 (D. Utah 1995)
Baird v. Cutler, 883 F. Supp. 591 (D. Utah 1995)
Harmon v. Ogden City Civil Service Comm'n, 809 P.2d 4 (Utah Ct. App. 1995)
Thompson v. Price Broadcasting Co., 817 F. Supp. 1538 (D. Utah 1993)
Hodgson v. Bunzl Utah, Inc., 844 P.2d 331 (Utah 1992)
Watkins v. General Refractories Co.¸805 F. Supp. 911 (D. Utah 1992)
Anaconda Minerals Co. v. Stoller chemical Co., Inc., 773 F. Supp. 1498 (D. Utah 1991)
Brehany v. Nordstrom, Inc., 812 P.2d 49 (Utah 1991)
Fullmer v. Wohlfeller & Beck, 905 F.2d 1394 (10th Cir. 1990)
Farmers New World Life Ins. Co. v. Bountiful City, 801 P.2d 1241 (Utah 1990)
U.S. v. Goff, 677 F. Supp. 1526 (D. Utah 1987)
Marker Intern. v. deBruler, 635 F. Supp. 986 (D. Utah 1986)
E.E.O.C. v. Crown Zellerbach Corp., 720 F.2d 1008 (9th Cir. 1983)
Significant Cases Handled by
Mr. Preston
Education
J. Reuben Clark Law School, Brigham Young University, J.D., 1980, Brigham Young University Law Review
Brigham Young University, B.A., 1977, magna cum laude, Presidential Scholarship (four-year recipient); Edwin S. Hinckley Scholar
Admissions & Memberships
California State Bar, 1980
Utah State Bar, 1983